The Last Days
"We wish sometimes that we could control events, but as we read the writings of the great persons that God raised up and allowed to see the future, we know that there would come a time when there would be a generation that would see the fulfillment of what these prophets saw. It would be very challenging, and it would take people with great integrity and capacity for endurance, to stand steady and know that God is in the heavens, that his purposes will be fulfilled, and that the blessings we have just living here are beyond measure."

(From a talk about the life of J. Reuben Clark, Jr. Grantsville, Utah, September 1, 1992)
---
The Glorius Second Coming
The Glorious Second Coming This book contains information about the glorious Second Coming of our Savior, Jesus Christ. Over 500 scriptural verses are organized into 17 chapters. More than 50 quotes by prophets, apostles, and other leaders are added. They explain some of these scriptures in detail. Many of the signs and events before, during, and after the Second Coming are included.
6" X 9", 140 pages, Referenced and Indexed, B&W, Paperback , Kindle
---
A Separation Is Coming!
"Yes," said Brother Heber C. Kimball, "we think we are secure here in the chambers of the everlasting hills, where we can close those few doors of the canyons against mobs and persecutors, the wicked and the vile, who have always beset us with violence and robbery, but I want to say to you ... the time is coming when we will be mixed up in these now peaceful valleys to the extent that it will be difficult to tell the face of a Saint from the face of an enemy of the people of God. Then, brethren, look out for the great sieve, for there will be a great sifting time, and many will fall; for I say unto you there is a test, a TEST, a TEST coming..."
This book is full of short stories, scriptures, talks and writings that portray both the good and the evil. Contrasting these philosphies can help us to learn to choose the good.
6" X 9", Referenced, 225 pages, B&W
---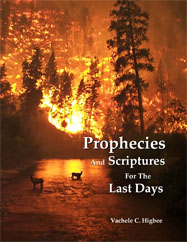 Prophecies and Scriptures For The Last Days
The future is bright! Prophets and apostles from the Church of Jesus Christ of Latter-day Saints, and other great leaders, share hope and encouragement in this great book. Yet, they acknowledge that there will be some challenging, dark days ahead, along with all of the exciting events that will occur here on the earth.
8.5" X 11", 238 pages, Referenced, B&W
---